Mount Perazim Hiking Trail (Previously the Cannibal Hiking Trail)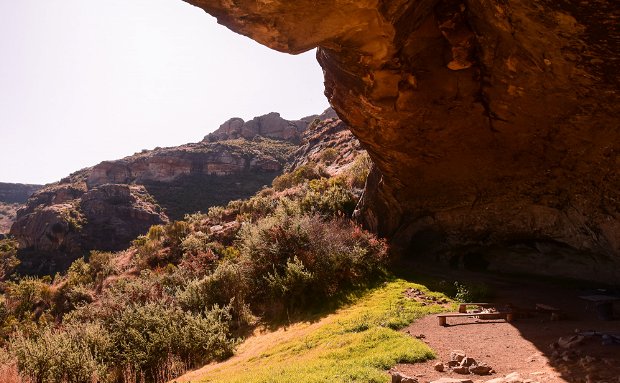 The widely known and well-loved Cannibal Trail has undergone a name change to Mount Perazim Hiking Trail.
The word 'Perazim' originates from the Hebrew language and means 'Place of Breakthrough'. Over the years, many who have walked the trail have resonated with the journey that unfolds as one engages with God's creation which is so evident while walking on St Fort Farm. We believe that this Name-change to Mount Perazim Hiking Trail captures the true essence of the St Fort Farm hiking experience.

Mount Perazim Trail Description
The Mount Perazim Trail is a circular 2-day route with day 1 being approximately 9 km and day 2 is 7 km.
The route takes you through differing landscapes, from impressive mountain views to river walks, and forest ambles to boulder hopping in and along gorges.
On the first day, the trail passes overhang caves with rock 'kraals', one of which has Bushman Paintings. You overnight in a substantial overhang cave.
The second day offers breath-taking views of the Malutis including Horeb, Woodhouse, Generaalskop, Visierskerf, and George's Pimple.
This is a hikers hike, well-marked, and provides all the amenities that a hiker demands, with numerous picnic spots, a swimming hole, interesting scenery, and a level of hiking that fits the serious hikers but is not too strenuous for the beginner hiker.
Amenities
Base Camp:
Base Camp consists of 2 dormitories, namely the Old School House and Melkstal, in lovely old sandstone sheds overlooking the Mushroom Rock. 
The facilities each have bunk beds with mattresses
Each facility has its own ablution block with running hot water and showers
The facilities each have a fridge and braai facilities
The Old School House boasts a large veranda with a reed-enclosed Lapa and fire pit
Wood is provided to start a fire, thereafter, wood is sold per bag
The Cave:
The following amenities are available at the Cave:
A basic ablution block is divided into 3 sections: 2 bathrooms each with a toilet, shower, and basin, and the kitchen unit that contains a kitchen sink and a large kettle and pot for the fire
Mattresses and groundsheets are provided and are stored in the kitchen unit
Braai facilities can be found in the cave
Wood is provided for the fire pit in the cave.  Extra wood can be bought
Slackpacking:
Slackpacking is available on request
Bags will be transported up to the cave and a fee is charged per item
A minimum of 3 items is required for slackpacking