Trails for Guests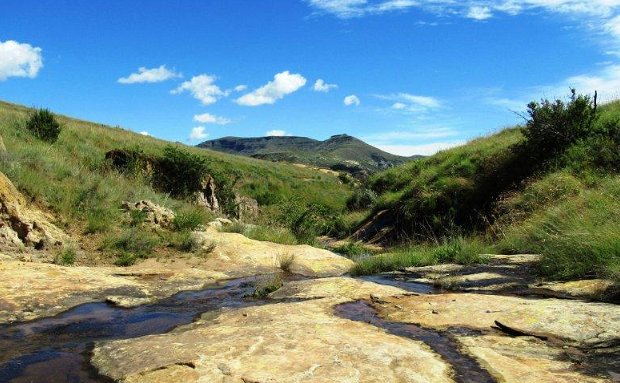 St Fort Farm offers fun and scenic day hikes for guests staying on the farm. From climbing up rock formations, and walking on the land, to waterfalls and birds-eye views, the day hikes are an activity enjoyed by all.
Trails for guests include the Mushroom Rock Trail, the Batwing Falls Trail, and the Kloof Trail.
Mushroom Rock Trail:
A favourite day hike for all ages.  The Mushroom Rock Trail is a 2-hour walk that takes you all along the Little Caledon River where there are many inviting spots to have a picnic or just to sit down and relax, before starting the gradual climb up St Fort Mountain to the base of Mushroom Rock.  For the last stretch, there are 2 route options.  One includes a steep yet gentle scenic route for all ages.  For the more daring, there is an alternate steep and slippery route which entails a fun trek up steep ladders and climbing through caves with an enchanting view of the river down below.
Duration: 2 hrs
Distance: 3 km
Markings: Yellow Arrows
Batwing Falls Trail:
This is a moderate hike that starts from St Fort Guesthouse. An initial climb is rewarded with breathtaking views of St Fort and the valley. Once on the plateau, the path follows a contour that takes you to Batwing Falls which is so aptly named as they resemble the wings of a bat. Enjoy a restful break at the base of the falls, before you climb out of the valley. Follow the trail which leads you home to the Guesthouse.
Duration: 2.5hr
Distance: 5.9km
Markings: White Arrows
Kloof Trail:
This is a moderate hike that starts from the road behind St Fort Guesthouse. This trail is known for its high mountain tops and deep valleys with mountain streams and offers some lovely surprises along the way, including a 360° view of the surrounding mountains, as well as a steep zigzag descent.
Duration: 1.5hr
Distance: 3.9km
Markings: Green Arrows