Hiking at St Fort

Overnight hiking experience in the Free State
Hiking Trails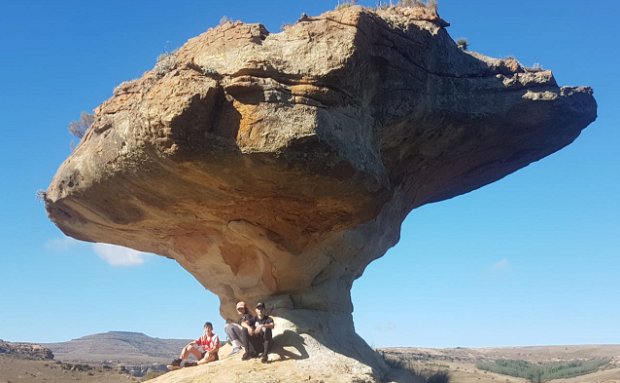 St Fort Farm, the home of the Mushroom Rock, is situated in the foothills of the Maluti Mountains that hug the Lesotho border. The Clarens Sandstone Formation creates a landscape littered with overhang caves, ravines, nooks and crannies, and hidden valleys begging to be discovered.
When one looks closer, the rich heritage that we share with our predecessors is experienced. Remnants of the Basotho culture as well as artifacts from the Boer War are occasionally discovered while exploring. One is privileged to behold Bushman Paintings that grace the walls of overhang caves.
St Fort Farm offers 4 expertly laid out hiking trails that can be enjoyed by young and old, experienced and adventurous hikers, and by those who are just learning to discover the joys of hiking.
All these trails take you through differing landscapes, from breathtaking mountain views and overhang caves, to river walks with numerous picnic spots, forest ambles, and boulder hopping in and along gorges.

Please Note
For security purposes, NO DRONES ARE ALLOWED
You can buy your St Fort hiking badge at the office.
Our Hiking Trails
Formerly named the Cannibal Trail, the Mount Perazim Hiking Trail has been reformed to capture the essence of the St Fort Farm hiking experience.
The word 'Perazim' originates from the Hebrew language and means 'place of breakthrough'.  Over the years, many have resonated with the journey that unfolds once one engages with God's creation so evident while walking on St Fort.
The Mount Perazim Trail is a circular 2-day route with day 1 being approximately 9 km and day 2 is 7 km.
The route takes you through differing landscapes, from impressive mountain views to river walks, and forest ambles to boulder hopping in and along gorges.
A favourite day hike for all ages.  The Mushroom Rock Trail is a 2-hour walk that takes you all along the Little Caledon River where there are many inviting spots to have a picnic or just to sit down and relax, before starting the gradual climb up St Fort Mountain to the base of Mushroom Rock.  For the last stretch, there are 2 route options.  One includes a steep yet gentle scenic route for all ages.  For the more daring, there is an alternate steep and slippery route which entails a fun trek up steep ladders and climbing through caves with an enchanting view of the river down below.
Batwing Falls Trail
This is a moderate hike which starts from St Fort Country House. An initial climb is rewarded with breath taking views of St Fort and the valley. Once on the plateau, the path follows a contour which takes you to Batwing Falls which are so aptly named as they resemble the wings of a bat. Enjoy a restful break at the base of falls, before you climb out of the valley. Follow the trail which leads you home to St Fort Country House.
Duration: 2.5hr
Distance: 5.9km
Markings: White Arrows
Kloof Trail
This is a moderate hike which starts from the road behind St Fort Country House. This trail is known for its high mountain tops and deep valleys with mountain streams, and offers some lovely surprises along the way, including a 360° view of the surrounding mountains, as well as a steep zigzag descent.
Duration: 1.5hr
Distance: 3.9km
Markings: Green Arrows